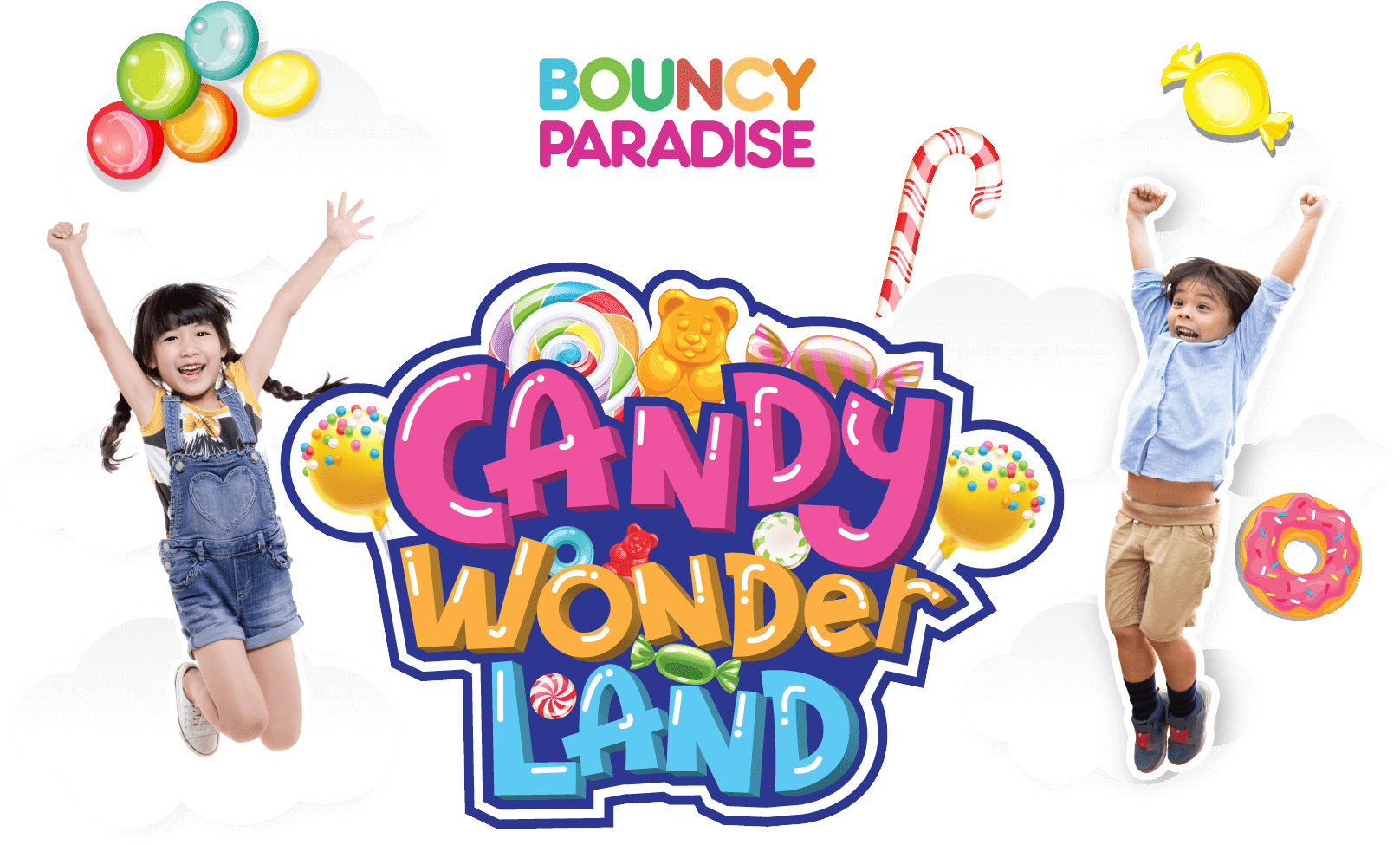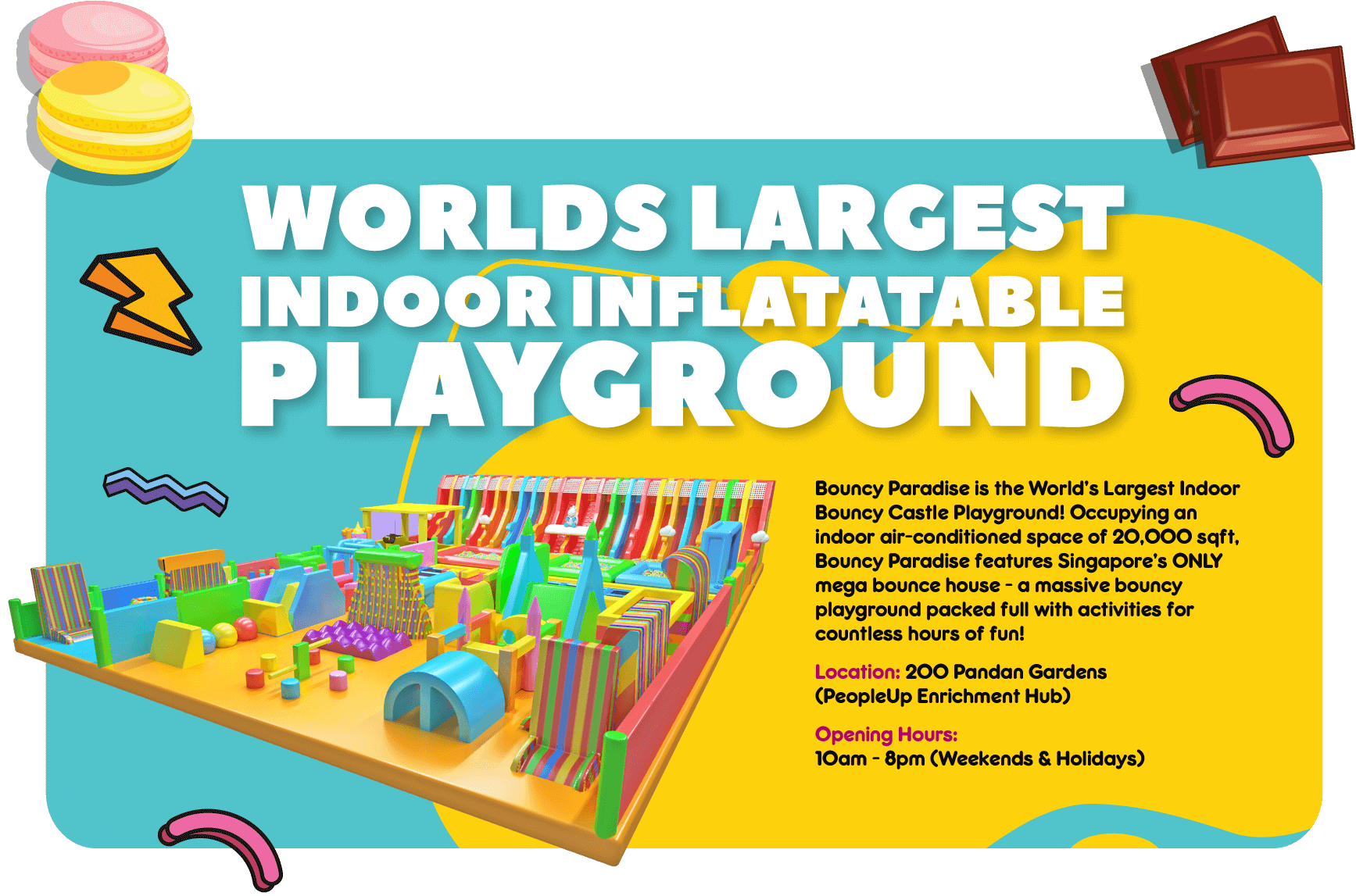 🚀 MEGA BOUNCE PLAY-ZONES FOR ALL!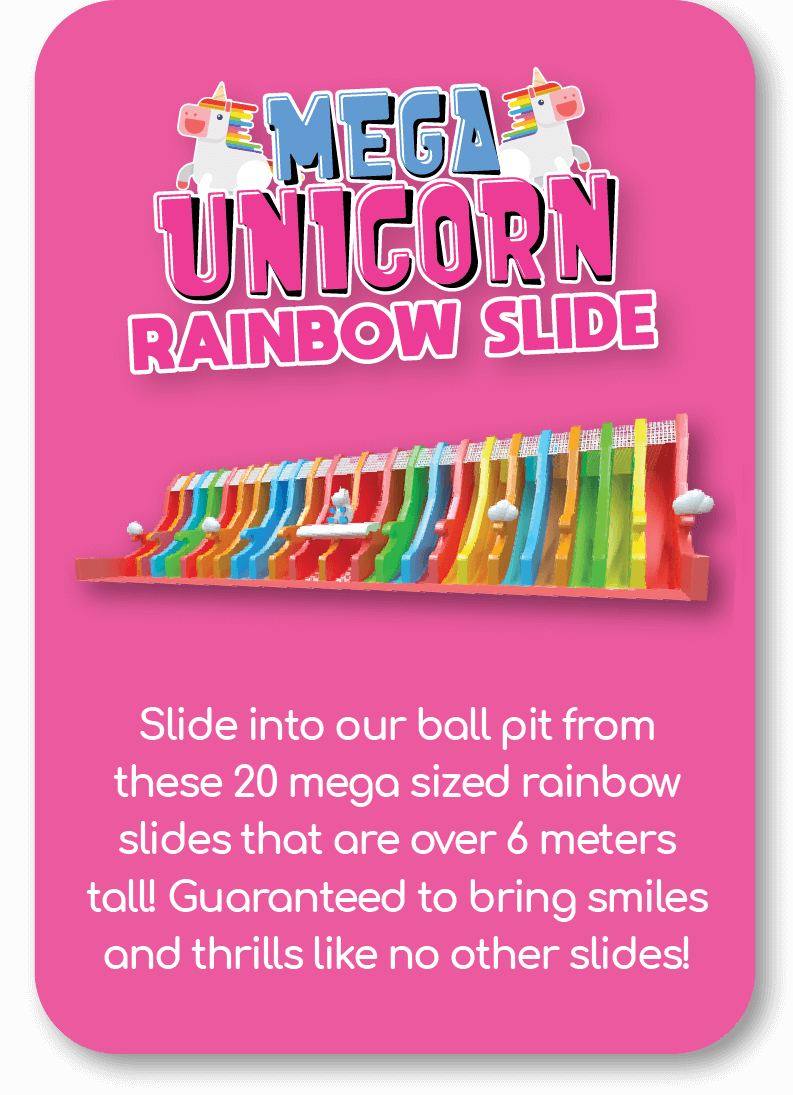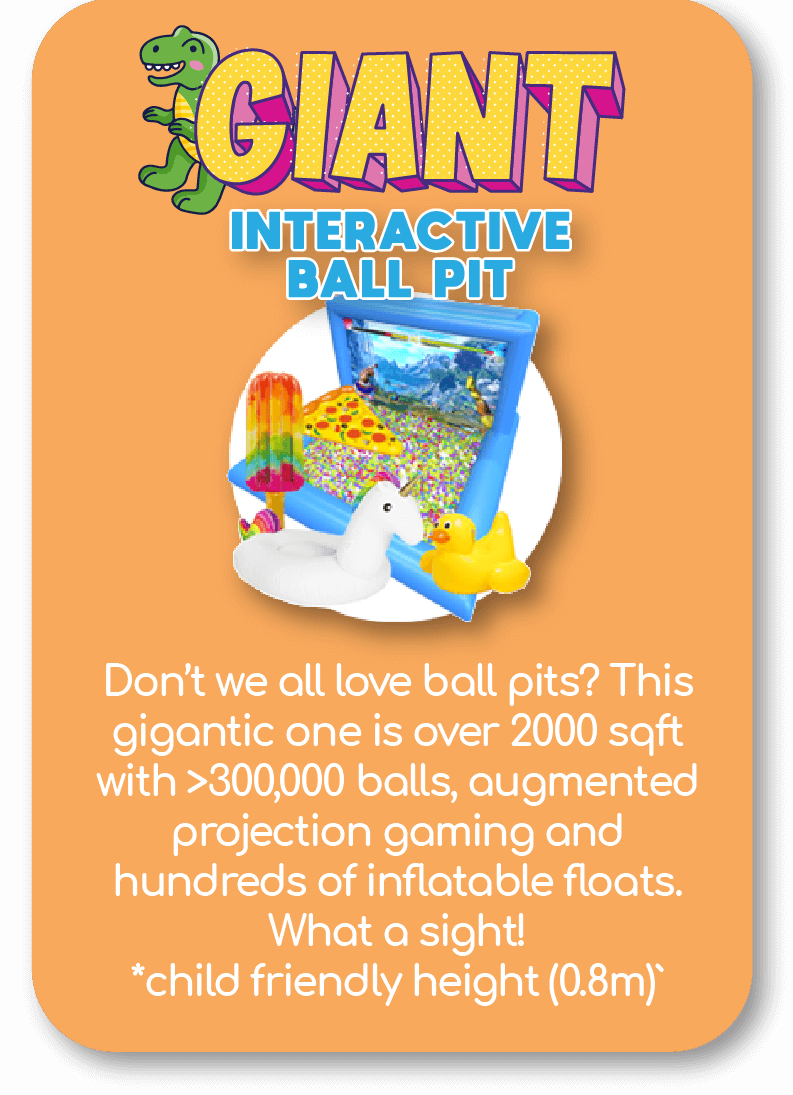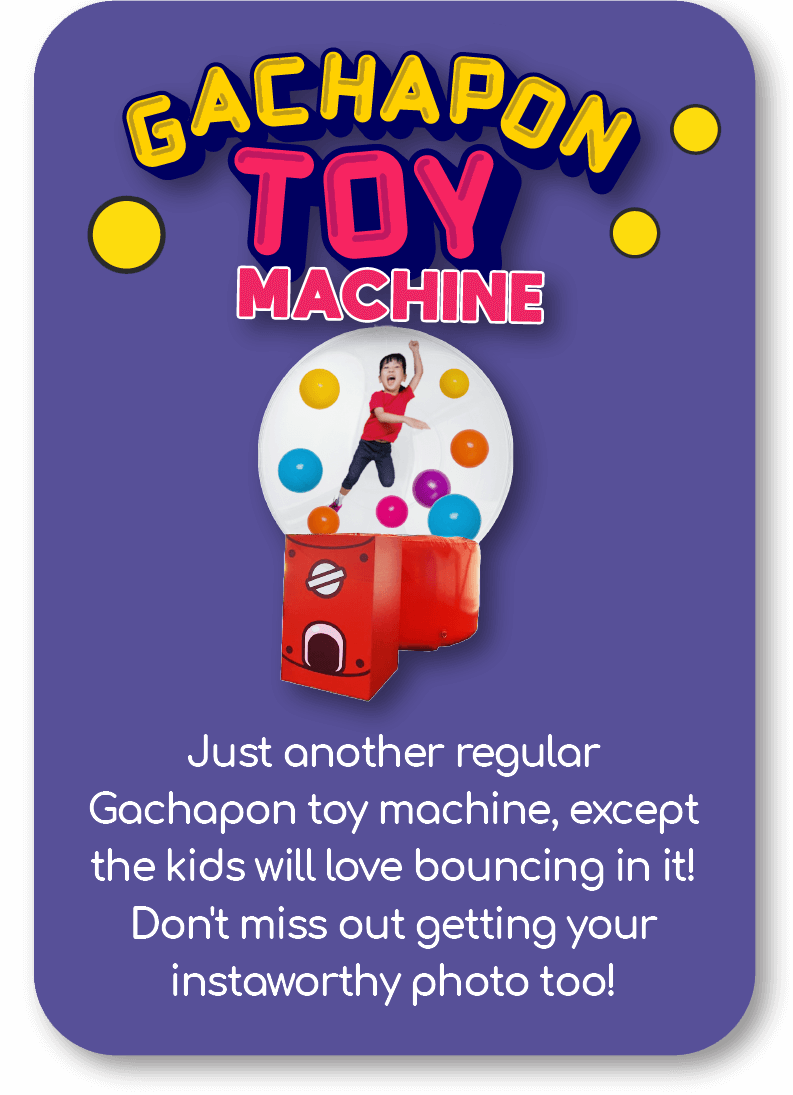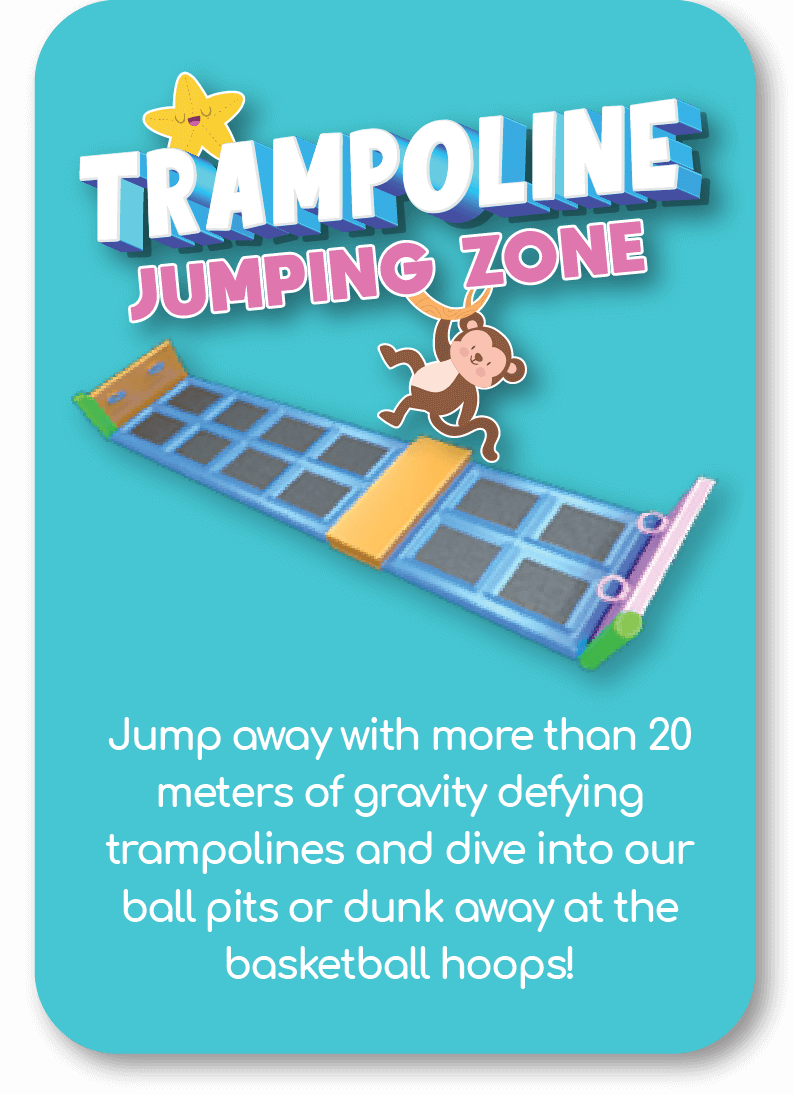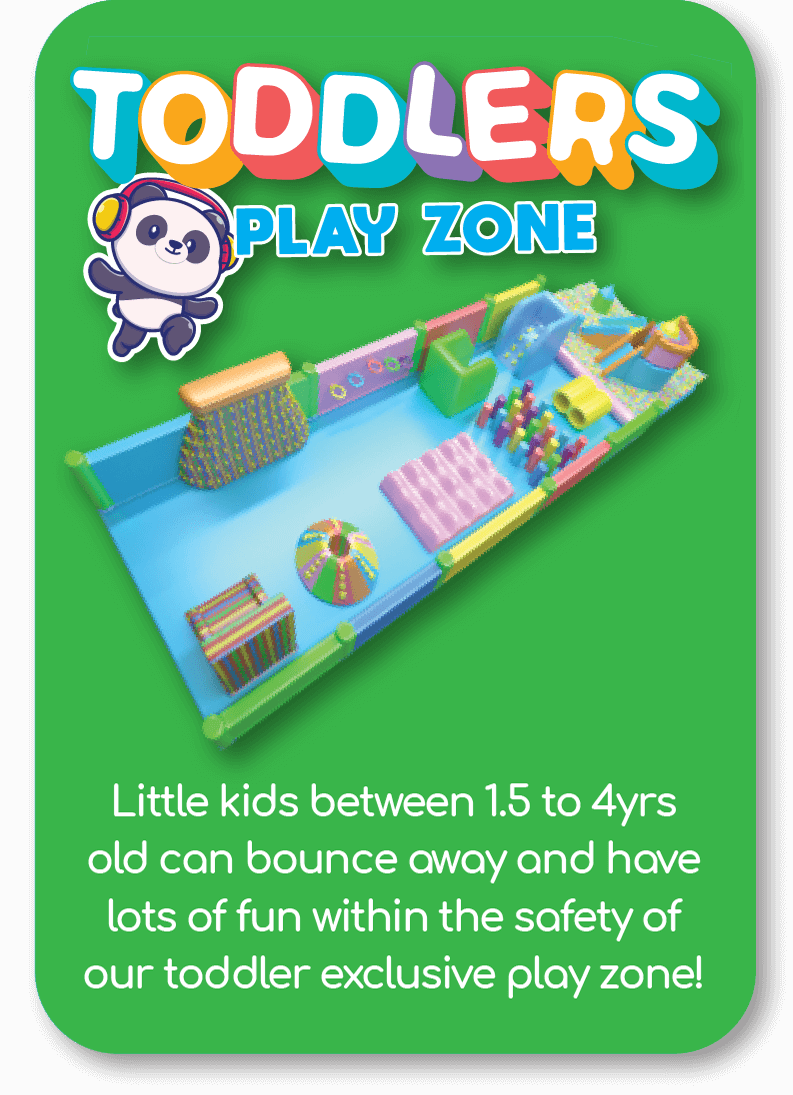 Freestanding 360° Rockclimbing Wall.
Can you reach the top?

Every kid can dunk in this bounce court!

Balance your way through and jump off to a rainbow air cushion!

Hang on while you Zip-line from one end to the other!

Jump or duck, just don't get swept off your feet!

Challenge yourself to stay on top as you charge through our obstacle courses!

Put on our velcro suit and stick to the wall for an epic photo, or climb it like spidey with our velcro gloves and shoes!

*(Temporarily closed due to covid-19 safety concerns of shared sticky suit)

Bounce from one end to another with these extra bouncy air bags!

Toddler castle with slides, balls and their favourite foam blocks!

Another favourite for those curious little toddlers!

Climb your way up these mini mountains and take a slide down!
🎉 A Great Time for Families & Kids!

Where are you located?
We're at 200 Pandan Gardens (PeopleUp Enrichment Hub).
Is the playground air conditioned?
Yes it is fully air-conditioned so you can have a great time!
Do infants and toddlers/pregnant or eldery need passes?
*Covid-19 Measures: We regret that due to severe capacity limits within our playground, all (age 13 months and above) entry into the playground will require purchase of entry passes.
Do parents need to buy passes?
Kids below 12 require an accompanying guardian. If you are coming with young kids, you will need to purchase an entry pass to access the playground. Have some fun together!
Can I buy a pass on site?
*Covid-19 Measures: Please pre-book your tickets below due to new capacity limits
What kind of attire is required?
Be comfy and bring non-slip socks!
Are you open on weekdays?
We're open on weekdays during public & school holidays 🙂
What are your operating hours?
Weekends and holidays: 10am to 8pm
Please check our Facebook page for updates during special occasions and holidays.
Opening Days:
Weekends (Sat/Sun)
19th Nov – 31st Dec (Holidays)
Opening Hrs: 10am to 8pm
————————————————
Safety Measures:
1) Maximum capacity will be reduced to only 50% per session (including adults). This allows huge playroom for all within our 20,000 sqft playground!
2) Hand sanitation is encouraged during entry and re-entry.
3) Socks must be worn at all times within the play area.
4) Cleaning and disinfection frequency will be increased.
————————————————
2 HOUR SAFE-PLAY ENTRY PASS – $19
Due to anti-crowding measures, per session playtime is shortened to accommodate more kids. On the bright side, you'll have the entire mega playground to yourselves with more safety and fun than ever!